European Voluntary Service (EVS) is a good experience to be involved in, at least once in your life. From my point of view this experience is being one of the most important in my life and I am more than pleased to share my new knowledge about it with people who are interested in participate in European Voluntary Service.
I have been here for 8 months and there are only 3 left. Mine is a long term project, exactly 11 months. I am volunteering in a school with different stages of ages: from 4 to 11 years old in Bradford.
My development.
It has been 8 month since I arrived here in Bradford and I started my project and if I look back I can see a huge development in all aspect: not only about my teaching skills also in my personal skills. At the school I am being involved in more and more activities not only in the school also out work with my college which means lots for me. Most of the time I am working with Reception, they are the most little in the school, helping with activities indoor, in the playground and also being a support with kids who need it.
Once a week I swap up my reception job. I go with other years that need support in an activity outdoor in Hill Top School where they go to Forest School Activity. There they play and learn lots of things about nature. My task is just to walk with them and stay during the activity helping and playing with them. Wednesdays are my favorite day of the week because I work with year 3 as a Spanish teacher. At the beginning I had a timetable to be a support in all the Spanish lessons that had been running in the school, but only year 3 are running it now. Our first days were very interested for me because I could see how teachers run a Spanish lesson, I was a pronunciation support and sometimes I could play a game with the pupils in the intranet that the school usually uses. But now the things are completely different for me because once I saw how difficult was for the children to remember all Spanish vocabulary, I decided to do some research and find some songs which, I thought, would be interesting for the teacher to use them in the classroom. After that, both teachers in year 3 gave me the opportunity to run the lesson on my own and I went ahead with it. I prepared some games and the children and the teachers were really happy with them. And now I am planning the whole lessons and run them!!!! For me this is a very good opportunity because I haven´t been a Spanish teacher before and I am learning from the children as the same time I am teaching them. It is like a dream!!!
My language skills:
I was really worry about my language skills because sometimes I couldn't have a good conversation with my college and also I couldn't express myself as I wanted. And the most important, I couldn't understand and talk with the kids as I would like to do it. But the improvement came and it is going better as long as I practice it. I am more confident that I have been before and I don't feel ridiculous when I speak. I think this is the trick! The huge development is definitely my languages skills, but I have to develop it more. To be honest, I have spent lots of hours in the library to get what I have now, and it is far away from the perfection…so it needs to work on it. You shouldn't wait for a day when English Language comes to your head and as a magic trick you can speak fluent English, because this is not going to happen, be sure of it.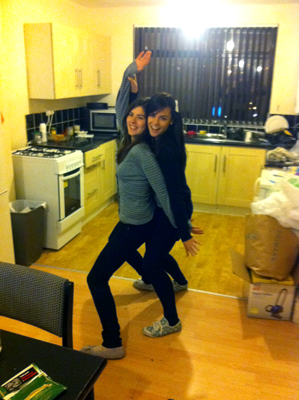 My Life in England.
My first months here were not really good for me because I had homesick and the cultural shock was really hard for me. I missed the beach and the weather started to go worst. It was like a nightmare. However I really loved the project so I decided to carry on with it, trying to find out the way not to do care about the other things I didn't like here. But after Christmas, I don't know why or how, I changed my mind and I have enjoyed all my spare time here and I do it now. I have visited some village around Bradford: Harrogate, York, Hebden Bridge, Sheffield, Wakefield and Dewsbury. Also I have been in some of the most famous cities in England: London, Liverpool, Nottingham, Newcastle and I looking forward to have the chance to go to Wales, Scotland and Ireland. My life in Bradford is a little bit boring now because I´m preparing an exam so from Monday to Thursday I go to the library and to the college. But on Fridays we go to a English tavern where we have a drink meanwhile we enjoy ourselves with music in life: jam session, new young bands … On the weekend, depend on the weather, but usually we do shopping, plan a trip to visit something close to Bradford, have a meal together, go out,… lots of thing you can do here.
Here in Bradford I have met a lot of people from Spain. I don't regret about it, but I would have met more people from others countries before. Through our Spanish friends I have met new people that I would like to meet before. But now I am having a really good time and I can finally say that I am really happy with all the aspect of my EVS (European Voluntary Service).
By Miss S. Salcines 😉 , EVS (European Voluntary Service) volunteer in Low Moor School in the UK.
Project part of Everything Is Possible EVS project "With YOUth In Mind"
supported by the British Council
and the Youth In Action programme
of the European Commission.