I am in the UK and
wish to travel abroad
Our Projects
Apply Now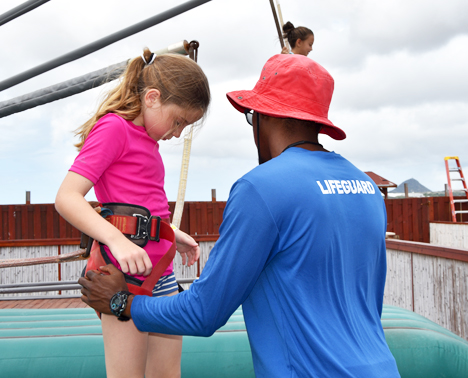 Palm Island is Aruba's All Inclusive Resort Island. Receiving tourists every day of the year, the coral reef just off De Palm Island is one of Aruba's most spectacular snorkel sites. There's no easier way to catch a glimpse of the spectacular marine life of the Caribbean, and in particular, the stunning blue parrotfish that are endemic to Aruba. The Island offers other sports activities such as zip line, air jumpers and banana boat rides and trainees will have opportunities to work in all these activity fields as well as receiving customers on the boat crossing between the mainland and the island. There are children's sport activities, a waterpark and swimming/snorkelling area all of which trainees will work alongside staff to deliver to the general public.
Trainees will be given lifeguarding training and also training in the other fields of work. They will also be trained in CPR and emergency first aid.
---
Trainee profile:
● to have studied sport or outdoor education
● to be competent swimmers
● to be experienced in diving or ready to undertake a diving course in Aruba,
● to hold a valid driving license
● to be confident and ready to try new things
---
The project place: Aruba
Aruba is a 33 km-long island of the Lesser Antilles in the southern Caribbean Sea, located 27 km north of the coast of Venezuela and 130 km (approx.) east of Colombia. Aruba is one of the four constituent countries that form the Kingdom of the Netherlands, together with the Netherlands, Curaçao, and Sint Maarten whose citizens share a single nationality: Dutch citizen.Palm Island is located just off the coast in the quiet area of Balashi.
---
Info sheet: