My Youth Workers' Mobility project by Ohiane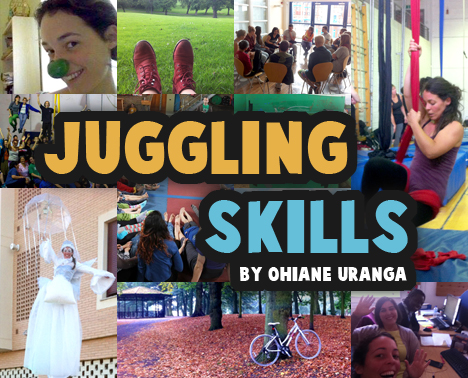 JUNE 2014
Landing on a new adventure
My first day back in Leeds!! Here I start my journey I feel excited and so lucky to have this fantastic opportunity starting today! I hope to make the best of it.
I've already survived a whole day in the office ;)!! I love this green coming back home! Thank EIP and Kanbahiota Trup for make this possible!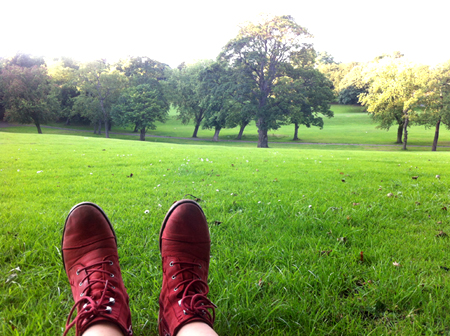 JULY 2014
My colleagues!
Here we are part EIP´s team at the office. I´m learning lots from all of them, quite different approaches to youth work though but always enriching! You can see here Joana from Portugal, Nadine from France and myself.
We are preparing this month quite large projects that are coming soon, I think we are a good team and hope we´ll be able to keep collaborating in the future.
AUGUST 2014
RRRR: Rethink, Reuse, Recycle and Repeat.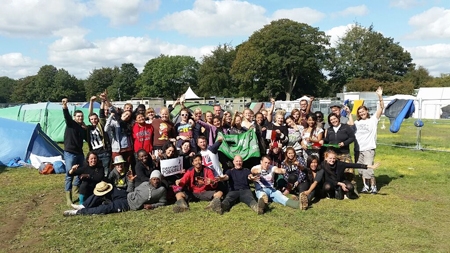 A Great Intercultural Project about Recycling and Salvaging at Festivals in the UK!  During two weeks I´ve been with young people with fewer opportunities from France, Sardinia, Indonesia, Filipinas, Germany, Sweden…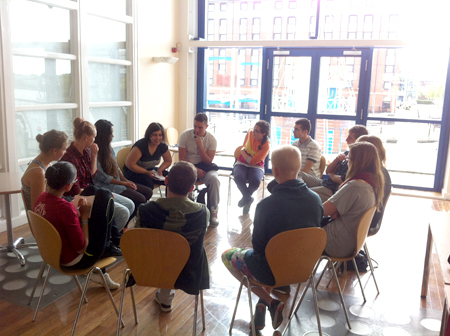 On arrival training with one group of the European volunteers  that came for the RRRR Project. Learning new resources with the great team of EIP: thank you Bob, Joana, Nadine, Clair, Godfrey and Raph!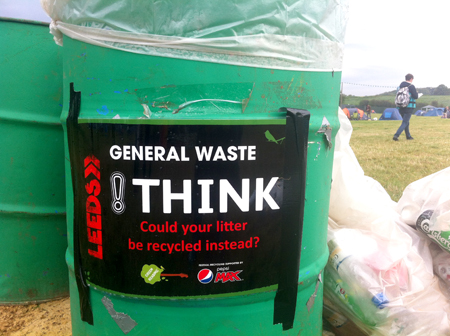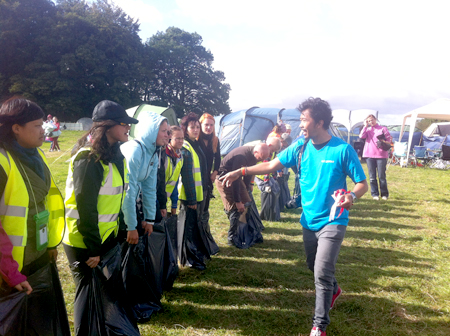 SEPTEMBER 2014
Autumn  arrives in Leeds!  I took this picture of my bike in Burley Park one morning on my way to the office. This is one the my favorite places in Leeds to run and cycle.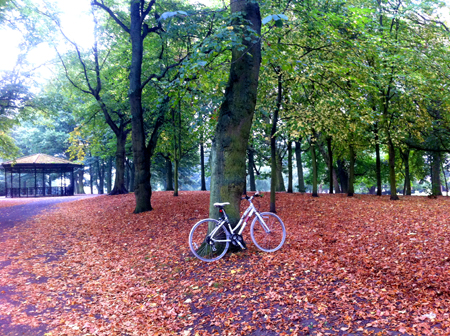 EAAC Aerial Convention in Edinburgh.
This month I had the chance to go to the Aerial and Acrobatics convention in Edinburgh! Organised by Aerial Edge in Edinburgh from the 5th to the 7th of September. During this convention I´ve learned and shared new skills, I´ve tried new techniques and gain new resources, games, warming ups, warming downs to work with young people. I meet fantastic people there!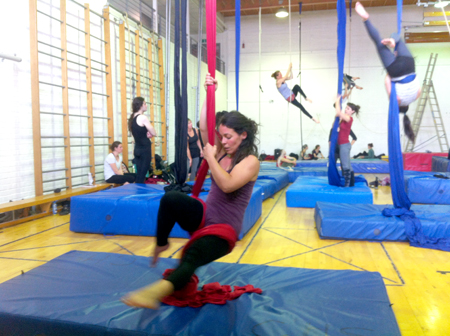 OCTOBER 2014
Suitcase Circus For Youth
This month I had the great opportunity to go to Argentina!
I´m coordinating an International Social Circus Project: Suitcase Circus For Youth,  a project that has beneficiate 600 disadvantaged young people all around the world through local community workshops in Chile, Costa Rica, Mexico, Argentina, Belgium, Estonia, Spain and England! I had the chance this month to meet and work with 30 young participants from those workshops, and their mentor´s in the Closing seminar of the project that took place in Buenos Aires, Argentina.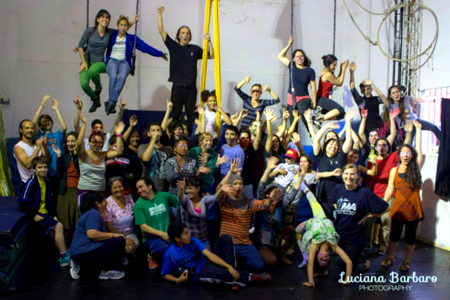 CircoMoto
I´ve create a new Circus Group with young parents/careers and toddlers called CircoMoto! Inspired in what I learnt during my experience in Belgium with Rika Taeymans, founder of Circomotoriek methods and director of Cirkus in Beweging (circus in movement).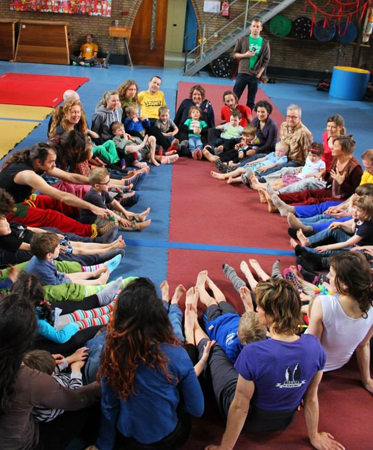 I run the group every Monday, a local community in Leeds. CircoMoto, is about Circus games for Children and their parents.  Using very natural, simple and playful exercises, we make the children aware of their strength and their power. The aims of the this personal project is to develop the awareness of the body improving the child´s motor skills, to improve the relationship with parents and toddlers (3-6 years) building trust and confidence in themselves and each other, to encourage creative exercise learning some acrobatic skills and of course, to have fun!"
NOVEMBER 2014
Go further Rich Higher
This month I had the enriching experience of being involved in the Start -Up Seminar of this new project of EIP, and meet partners who work with young people in partnership with EIP in Aruba, Sweden, Malta and Portugal.  I´ve took this picture at the Wigan Youth Centre, one of the biggest Youth Centre in Europe it was one of the most inspirational places I´ve ever been.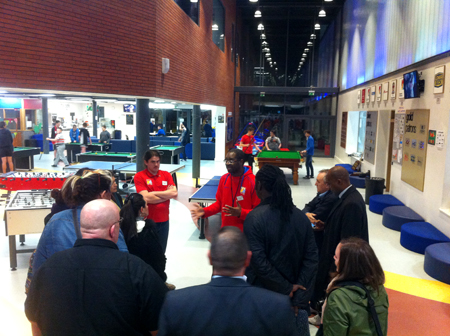 Leeds Juggling Convention
This month I´ve been invited to run acrobalance workshops at the Leeds Juggling Convention. It´s been a great opportunity to meet friends and local young people interested in Circus, to learn and share new skills.  I´m so glad to have had the opportunity to contribute with my passion in this event!!
DECEMBER 2014
Leeds Children´s Circus 25th Anniversary
During these 6 months of the project, I´ve been involved every Tuesday with Leeds Children´s Circus running a Circus Youth Club with young people in Harehills.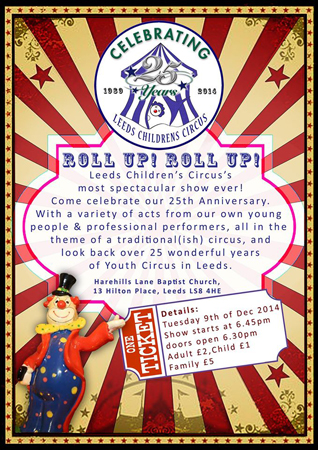 This month we had the fantastic opportunity to celebrate the 25th Anniversary of LCC and for me was a great closure of this project, as I could be involved in the coordination and implementation of the event and in the creation of the Show performed by the young people. We had an article published in the Yorkshire Post!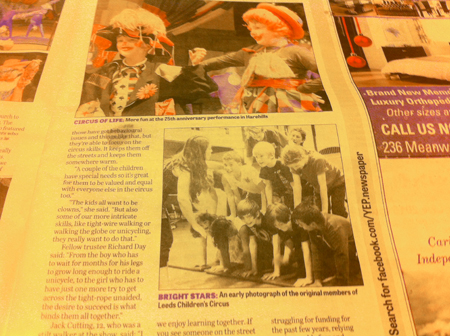 JANUARY 2015
Three Kings Parade
Already back home, I had the opportunity to perform through Kanbahiota Trup at the Three Kings Parade in Badajoz. It was a great experience to be part of this emotive day for Children and Young people.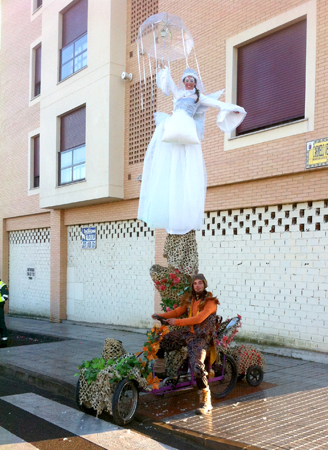 FEBRUARY 2015
Article of our great project in the Circus Digital Magazine: El Circense!
Last October when I went to Argentina I had the chance to meet with María Gil Navarro, a good friend from University and what a coincidence, she is the editor of one of the most important circus magazines!  Therefore we agreed to make an article in February to promote our new project and to tell what we were doing in Buenos Aires with our last Project.  And here we have my first published article!!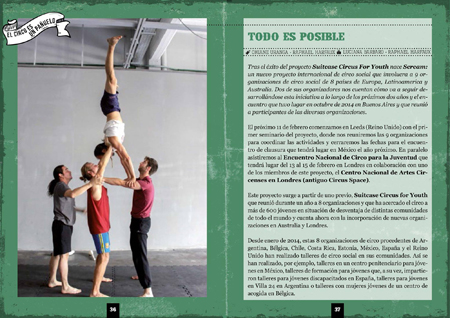 In this month we´ve got, as you know,  the Start Up Meeting of Suitcase Circus SCREAM , a new International Circus Project which brings together  9 organisations from 8 different countries. This project will give the opportunity to mobilise professionals and trainers in order to enrich each other Social Circus methodology and resources, we´ll work as well for the recognition of Social Circus as a educational activity methodology.
By Ohiane Uranga