I am in the UK and
wish to travel abroad
Our Projects
Apply Now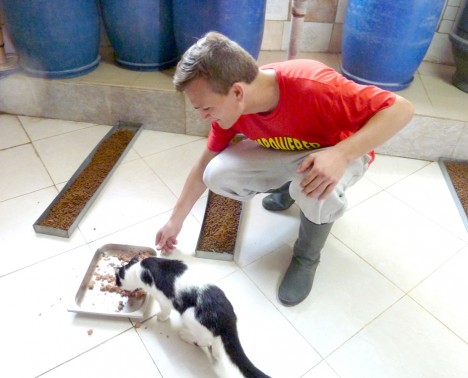 The National Cat Society works on a national scale. The aim of the Society is to: Save as many stray cats as possible by picking them, neutering them, giving them medical assistance where needed, keep them in a large sanctuary with ample space for freedom. Re home the cats to prospective persons. Educate the general public mainly through school lectures and forums.
The tasks of the trainee are:
● To keep the sanctuary in extreme cleanliness and the cats happy and healthy.
● To give advice to cat owners re any problem with their cat(s).
● To give advice to cat feeders re their colonies and help wherever possible.
● To raise funds for the above tasks to be conducted efficiently.
● To respond to calls from the general public regarding cats in distress ( e.g. car victims)
● To evaluate prospective adoptions to 'new' homes.
● To do vet runs for cats at the sanctuary which show symptoms of irregular health.
---
Trainee profile:
An interest in working with animals and a love of cats!;
● Not mind getting dirty and smelly;
● An adventurous spirit and ready to use your free time to investigate;
● A desire to meet new people;
● Be flexible about working hours, weekends etc.
---
Project place: Malta
The history of Malta has been shaped by its strategic location and perfect harbour setting. Malta has a very rich history. From the ancient Carthaginians to the Normans and the French, all the major forces in history have ruled Malta at some point. The hand of British rule touched Malta when they ousted the French in the early 1800s and still the majority of people speak English. During the time of British rule the Maltese had their fill of being governed and began to fight for independence. Their plea for political freedom was only granted in 1964 and soon after, it became a republic.
---
Video:
---
Info sheet: