I am in the UK and
wish to travel abroad
Our Projects
Apply Now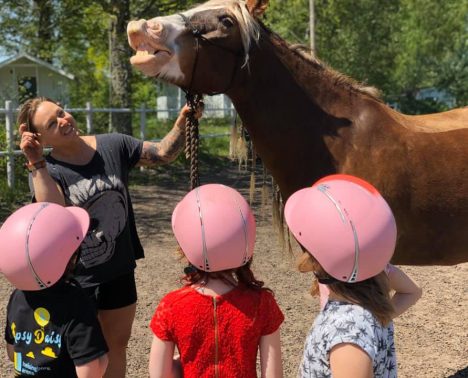 Caprifolen is a horse centre for rehab, mostly for people with disabilities. Horse sports (vaulting mostly) both training and competitions, camps, musical, circus and performance.
Trainees will help with the training and education of horses. They will also help taking care of the horses and the stables everyday needs. The weekly activities at Caprifolen are rehab, vaulting, circus, gymnastic and dance training for young people in different groups with or with disabilities. Every year Caprifolen arranges competitions in vaulting and PARA-vaulting, musical performance for large audience both at Caprifolen and on other places. And summer camps for young people from all over Sweden. Volunteers will have different tasks after interested and skills in the different arrangement. It can be taking bigger responsibility for the horses, documentation, do the warm-up, social media, prepping the arena for competitions or shows, training horses for circus tricks together with the members, and so on.
---
Trainee profile:
● True interest in horses.
● Wants to work with young people with/without disabilities.
Good to have:
● Skilled horse riding
● Driving license
● Creativity
● Flexibility
---
Project place:
Våxtorp is the closest small town for shopping food. They have one groceries store, two restaurants, some small shops and a café and bakery. Fun activities close by;
Summer bob sleigh, Zipline, Bungy rocket, climbing, downhill biking, skiing. Visits to nature park for hiking. Trips to the ocean or lakes close by where you can canoe.
---
---
Info sheet: