I am in the UK and
wish to travel abroad
Our Projects
Apply Now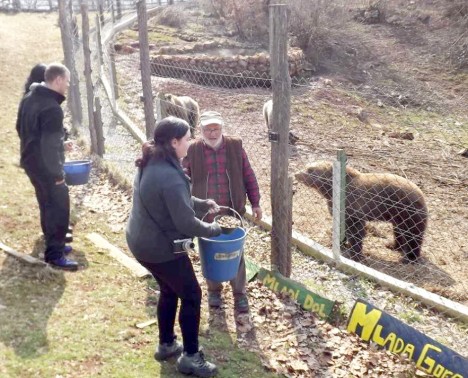 IMPORTANT: This project is only available for partners involved in our current Vocational Educational Training applications.
In 1995, the local non-governmental organization Velebit Association Kuterevo was founded. The vision of the organization is the sustainability of the natural ecosystem and the local mountain community. Its mission is to provide refuge for orphaned bear cubs, protect their habitat and promote the sustainable living traditions of the local mountain community.
Volunteer tasks:
maintaining and improving the facilities of the refuge (cleaning the area, cutting weeds and branches, renovating paths for visitors, etc.)
working on the area of a new enclosure for the bears (digging, cleaning, digging, making concrete, digging more)
collecting food for the bears in the refuge (fruits, weed, roots etc.)
improving the facilities of the Kopija camp and surrounding
working in the village with local people (ex: helping with renovation of community water cistern)
removing trash from the forest / eco-patrol
making water pools for animals in the forest
setting up hiking and educational trails around the village
Trainee profile:
For the project, trainees need to be ready to help, to follow the tasks and respecting the values of the organisation.
The project place: Kuterovo
The village of Kuterevo is located in the region Lika in the mountain range of Velebit.
It is situated 16km from the closest town, Otocac.
We can arrange a lot of food in the village (homemade cheese, eggs, fruits, etc.), the rest of necessary thing we can buy in Otocac but we have also one small market in the village.
Close to Kuterevo, there is the Northern Velebit National Park; we have seven National Parks in Croatia.
Info sheet: